Current Saanen Bucks
Click on any animal's name for a link to their ADGA genetics page.
Catcher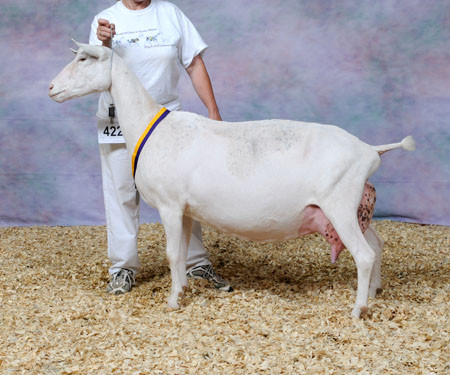 Catcher (or as Lauren called him, "Big Catcher"... because, he is!) came to us in the spring of 2014.  We are eternally grateful to Lauren Acton for making him available to us.  His dam, SGCH Des-Ruhigestelle Wincatcher, was the 2013 ADGA National Champion Saanen with Best Udder.  Click on her photo for her pedigree link.  She is a phenomenal doe that we can only hope will pass those traits on through her son.  We tend to use our young bucks hard across a wide range of does to best evaluate what they can give us.  Catcher was more than up to the challenge last fall and we expect a large number of kids this spring with Catcher as their sire.  This buck has been DNA tested.
Trident
Trident was our 2013 Saanen Jr herdsire, picked up when Cullen and Jeff made their trek out to California that spring.  He's an exciting addition to our Saanen genetics.  His pedigree is impeccable and his dam Sartyr Fox Tiramisu is stunning.  His sire is Old-English Kojack.  We used him heavily in our 2013 breeding season and have daughters due to freshen in 2015.  Trident has been DNA typed.  Many thanks to Scott Bice at Vineyard View for allowing us to purchase this buck!
Fortunate Son
 Fortunate Son is one of our exciting home bred herdsires.  A cross between Old English Clinton and SGCH Spinning Spider LC Chantal, FS is simply a beautiful animal to watch, both at rest and on the move.  He has a wide, deep front end that is still very smooth, combined with an extremely long, level topline and impeccable feet and legs.  Two of our FS kids placed 3rd and 4th in their Sr Kid class at the 2013 Nationals and one, SG Spinning Spider LA Woman, then placed 9th as a milking yearling at the 2014 National show.