Click on any animal's name for a link to their ADGA genetics page.
Sire: Des-Ruhigestelle Social Climber
Dam: SGCH Spinning Spider Electric Lady
DOB: 3/8/19 ETA21: 92 ETA12: 130

---
Sire: Tempo Passa Eltantor
Dam: Tempo Passa Este
DOB: 11/19/19

---
Sire: Tempo Passa FRL Harley
Dam: SGCH Tempo Passa Elentera ('18 & '19 Res. Nat'l Champion)

DOB: 2/21/20
---
---
Sire: Vineyard View Tiber
Dam: Des-Ruhigestelle Elendili
DOB: 2/15/14 PTI21: -6 PTI12: -43 ETA21: 19 ETA12: -1

---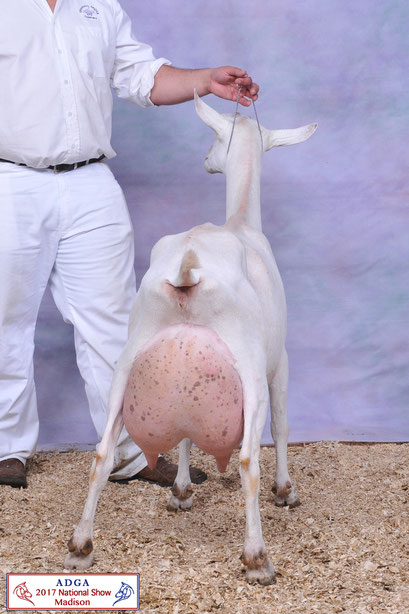 Sire: Vinyard View Kojack Trident
Dam: SGCH Spinning Spider EL Heat Wave
DOB: 2/15/16 PTI21: 98 PIT12: 117 ETA21: 71 ETA12:100

Tonk's dam is SGCH Spinning Spider EL Heat Wave and his sire is Vineyard View Kojack Trident. His littermate sisters are Haze and Foxy (see the Saanen doe page) and his paternal half sister (out of littermate dams) is Spinning Spider Electric Lady. 
---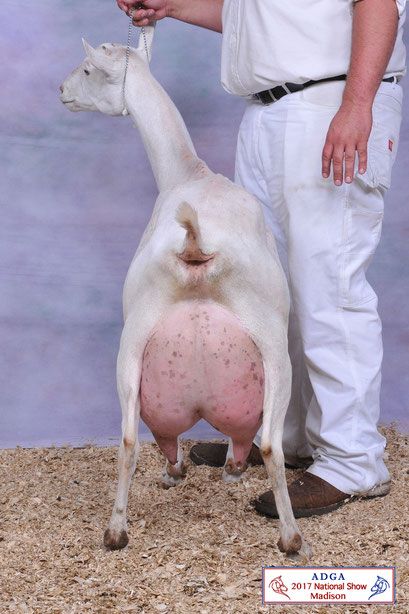 Sire: Tempo Passa Elphi
Dam Spinning Spider Stormy Weather
DOB: 3/9/18 ETA21: 35 ETA12: 115

JT is the product of an AI breeding of SGCH Spinning Spider Stormy Weather to Tempo Passa Elphi.
---
King was an exciting outcross for us from Betty Henning. Heavily line bred and along with production and type should contribute strongly to components.
---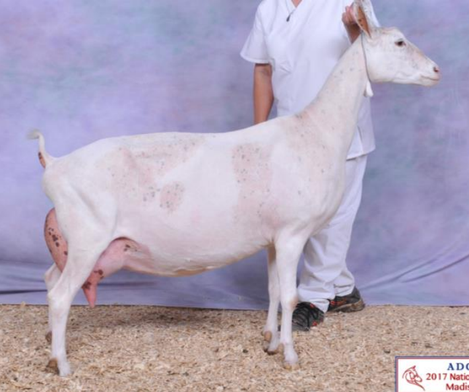 Sired by des-Ruhigestelle Trademark and out of GCH Tempo Passa Etienne 
---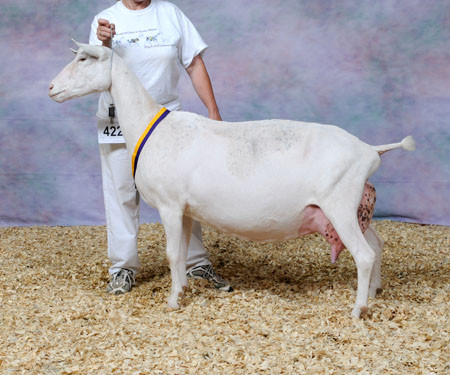 We are eternally grateful to Lauren Acton for making Catcher available to us.  His dam, SGCH Des-Ruhigestelle Wincatcher, was the 2013 ADGA National Champion Saanen with Best Udder.  Click on her photo for her pedigree link.  
---
Trident was our 2013 Saanen Jr herdsire, picked up when Cullen and Jeff made their trek out to California that spring.  His pedigree was impeccable and his dam Sartyr Fox Tiramisu was stunning.  He was sired by Old-English Kojack. Many thanks to Scott Bice at Vineyard View for allowing us to purchase this buck. Trident did great things for our herd.